Bij transgender vrouwen die een oestrogeenbehandeling volgen, is de hormonale behandeling vaak onvoldoende om de haargroei volledig te stopen. Scheren, epileren, waxen en harsen kunnen op dat moment wel helpen op de korte termijn, maar het fijnst is natuurlijk om op zoek te gaan naar een lange termijn oplossing. Medische laserontharing is hiervoor de ideale oplossing. Wist je dat we al bij heel wat transpersonen komaf maakten met vervelende haargroei? Samen gaan we op zoek naar een programma laserbehandelingen volledig afgestemd op jouw transitie.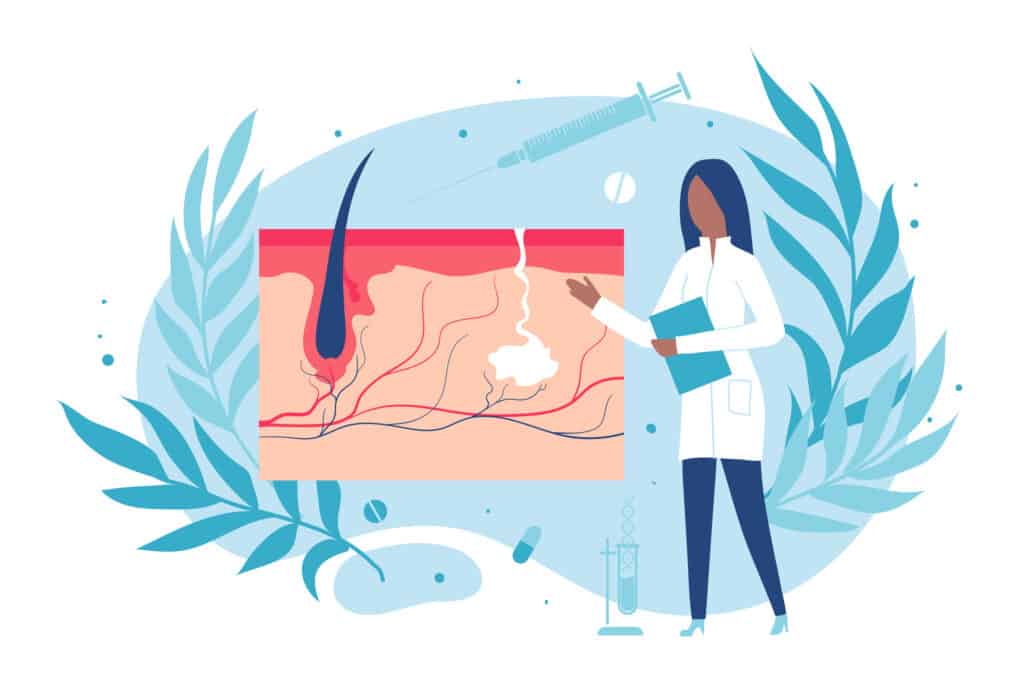 Behandelbare haarproblemen via medishe laserbehandeling
Hypertrichose is een medische term voor overbeharing. Die overbeharing kan op een willekeurig lichaamsdeel voorkomen. Bovendien is het vaak erfelijk. Komt hypertrichose of overbeharing vaak voor in jouw familie? Dan kan het goed zijn dat jij hier ook last van hebt. Samen lossen we dit op! Kom langs voor een gratis laserbehandeling testsessie.
Hirsutisme komt voor bij vrouwen die een mannelijk beharingspatroon ontwikkelen. Denk bijvoorbeeld aan overbeharing op de bovenlip, kin, wangen of tepels van de vrouw. Deze vorm wordt veroorzaakt door een overproductie van mannelijke hormonen. Ook hirsutisme kunnen we bij Laser-Line behandelen. Boek je gratis medische laserontharing sessie.
Huidproblemen in relatie met haargroei
Folliculitis is een ontsteking van een haarzakje. Bij die ontsteking komen er kleine puistjes op de huid. Dit komt vaak voor bij de bikinilijn na het scheren, waxen of epileren. Heb je vaak last van folliculitis of ingegroeide haren? Ook dit kunnen we oplossen aan de hand van laserbehandelingen. Tijdens een gratis testsessie kijken we samen hoeveel behandelingen je nodig hebt. 
Een haarnestcyste is een ontsteking in de bilnaad. De ontsteking begint bijna altijd met een verstopt haarzakje dat vervolgens onderhuids openbarst. Daardoor ontstaat een holte gevuld met pus. Afhankelijk van de klachten kan de arts aangeraden de cyste chirurgisch te laten behandelen. De arts adviseert in vaak voorkomende gevallen ook laserontharing zodat de zone onthaard kan worden en hygiëne verzekerd is. Is dit iets waar jij al eerder mee te maken hebt gehad? Laten we het er samen even over hebben tijdens een gratis testsessie.   
Een naevus van Becker is een goedaardige "moedervlek" die al bij de geboorte zichtbaar is of tijdens de puberteit optreedt. De moedervlek kan verschillende groottes en vormen hebben. Wat typerend is voor de naevus van Becker moedervlek, is dat er naarmate van tijd dikke donkere haren op groeien. Ervaar je het haar op deze moedervlek als storend, dan kan dit ook behandeld worden door laserontharing. Wil jij graag meer informatie? Plan een gratis testsessie in. Behandeling is niet nodig maar wordt soms gevraagd om cosmetische redenen.
De hyperpigmentatie en de hypertrichose kan worden behandeld met laser.
Gratis testsessie twv 25 euro
Vraag naar uw gratis testsessie laserontharing!